KRISS Arms Group - The Swiss Maker of KRISS Firearms & Sphinx Pistols
| | |
| --- | --- |
| The following information about KRISS and Sphinx was assembled by GunsForSale.com staff after interviewing the CEO & other representatives of the companies at the IWA trade show in Nuremberg, Germany. | |
Background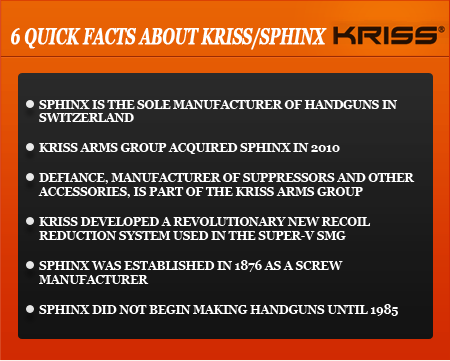 Sphinx was founded in 1876 by Josef Müller-Haiber and Jakob Schweizer. Initially, Sphinx was to manufacture steel products such as screws and other parts. Production of firearms began in 1985.
Sphinx is the only company still manufacturing handguns in Switzerland. The Sphinx factory is located in Matten/Interlaken.
KRISS Systems SA, also a Swiss company, purchased Sphinx in November 2010.
In the United States, KRISS USA is responsible for distribution of all KRISS products. KRISS USA is a wholly owned subsidiary of the KRISS Arms Group.
Transformational Defense Industries, TDI, is a former legal entity that was replaced by KRISS USA. TDI no longer exists in any form.
KRISS Arms Group includes the suppressor manufacturer Defiance. All subsidiary companies are operated independently, but have close interaction in production and research and development. Sales activities are also closely tied together.
Sphinx Pistols Video Overview
Guns of KRISS Arms Group
KRISS Vector SMG
KRISS designed a submachine gun called the Vector which uses a proprietary system to redirect recoil when fired. The result is very little muzzle rise even during full auto fire. The current Vector SMG is chambered in .45 ACP.
KRISS has the SMG deployed with various SWAT units in the United States, as well as special forces units in North America, Asia and the Middle East.
In full production, 1,000 units each month are produced in the USA. A new production center is opening in Switzerland to increase production capacity for the international market.
Sphinx 3000
The Sphinx Special Duty Pistol (SDP) is a full duty sized pistol chambered in 9mm and .40 S&W. The pistol is CNC machined on state of the art equipment in the modern Swiss plant.
The gun is polymer in the lower portion of the frame with an aluminum upper portion of the frame. The pistol has a Picatinny rail and barrel length of 3 ¾". A double action/single action trigger is standard, with a double action only trigger available as an option.
Sights are made by Defiance using a hybrid fiber optic-tritium combination. A threaded barrel and sound suppressor are options. A compensator is also available.
Kriss Vector & K10 Video
Defiance Suppressors Video
Ammunition for KRISS Firearms