SIG Sauer GmbH - Home of SIG Sauer Pistols in Eckernförde, Germany
| | |
| --- | --- |
| SIG Sauer is known as one of the premier firearm brands the world over, providing rugged reliability for law enforcement and military operators going into harm's way. The following information was gathered when GunsForSale.com staff toured the SIG Sauer facilities in Eckernforde, Germany. | |
History of SIG Sauer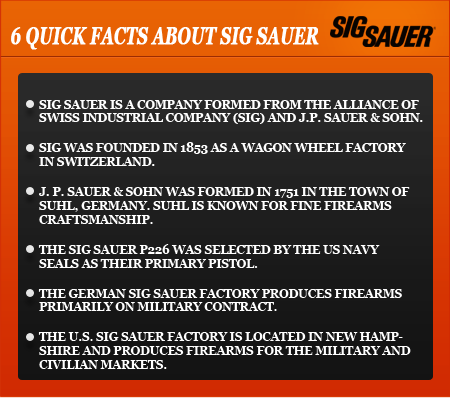 SIG Sauer is the largest member of a worldwide group of firearms manufacturers that includes J.P. Sauer & Sohn, Blaser Gmbh and Swiss Arms AG. The origins of these companies stretch back hundreds of years and represent the finest in precision firearm engineering.
SIG, or Swiss Industrial Company (Schweizerische Industrie-Gesellschaft), began in 1853 as a wagon factory in Switzerland. Three men, Friedrich Peyer im Hof, Heinrich Moser and Conrad Neher, built a state of the art factory for producing rail cars and wagons.
After just a few years in business, the company secured a contract from the Swiss Army to build a world-class rifle. The contract was for 30,000 muzzle loading Prelaz-Burnand rifles. This contract forever changed the direction of Sig.
J.P. Sauer & Sohn was started in 1751 in the town of Suhl. Suhl is considered one of the oldest firearm regions in Europe.
J.P. Sauer moved to the area of Eckernforde following World War II due to the fact that the region's residents were skilled in metal working from ships and armaments manufactured during the conflict. The company set up shop in an old torpedo factory.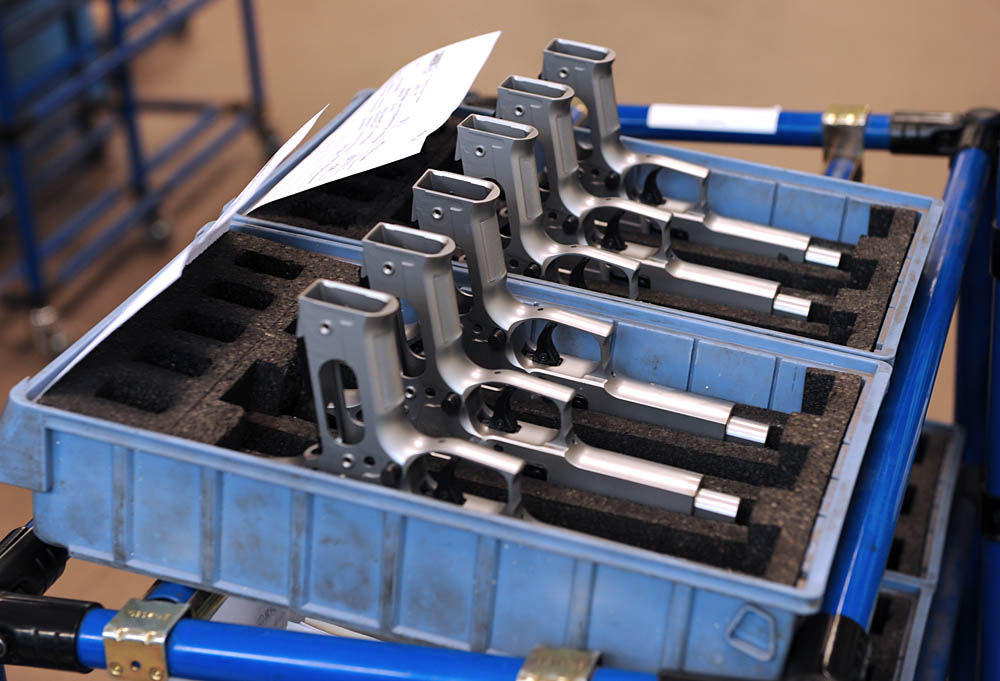 In the 1970's, SIG and J.P. Sauer formed an alliance to produce handguns. Due to Swiss laws on the manufacture and export of firearms, SIG had to partner with a foreign company to produce pistols. It was also during this time that SIG acquired Hammerli Target Arms.
In January 1985, SIGARMS was formed in the United States to allow SIG Sauer to expand their market. This original facility, located in Tyson's Corner, Virginia, worked well for the importation of pistols on a smaller scale, but as Sig's market share in the United States grew, a larger facility was required, and Sig moved to Herndon, Virginia just a few years later.
When Sig saw a need to produce weapons in the United States, this necessitated yet another move, to Exeter, New Hampshire, in 1990. This facility serves as the importer for Sig Sauer, Blaser, J.P. Sauer & Sohn and other weapons produced in Germany, as well as the point of manufacture for pistols such as the P250, P290, and 1911. Pistols including the P226 and P229 have various components manufactured in Germany, but enough parts are finished and manufactured in the United States for them to be considered US-made.
Although the company originated in Switzerland as part of the Swiss Industrial Group (SIG), the firearm portion of the business was sold in 2000 to two German entrepreneurs, Michael Luke and Thomas Ortmeier.
Factory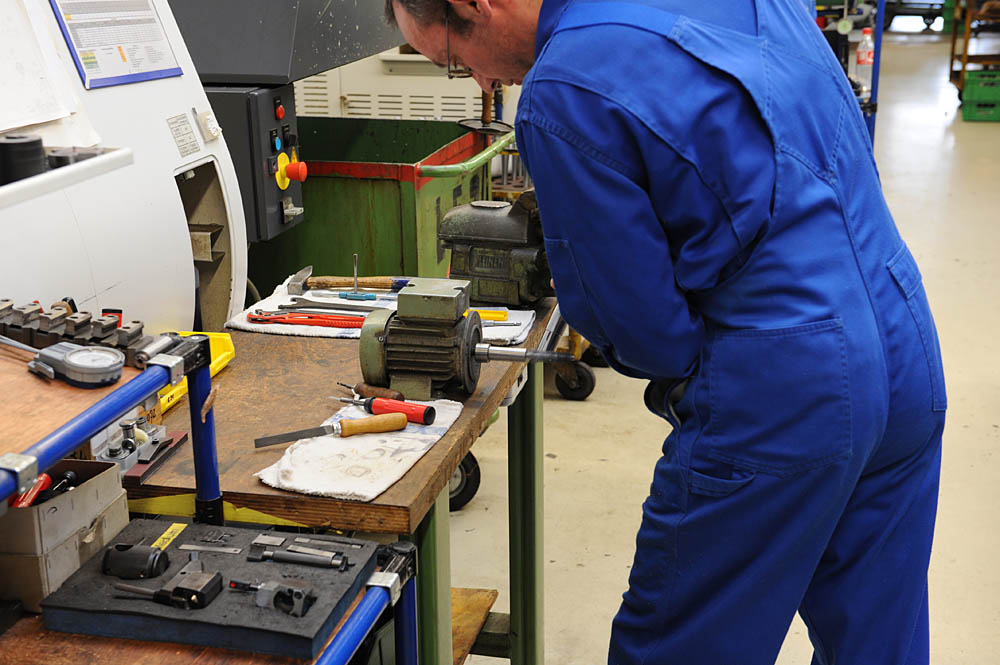 The Sig Sauer plant in Germany currently employs 200, and has a capacity to employ 500. German production is tied largely to military and government contracts, meaning the production and employment can vary greatly from year to year.
The United States plant currently employs about 500 people. The US facility produces a greater number of weapons for the American citizens, allowing the plant more stability in hiring and manufacturing.
Sig Sauer uses progressive CNC machines combined with human craftsmanship to produce precision firearms. Every component of the firearm is carefully observed throughout the production, ensuring close tolerances.
Barrels produced in Germany have a "DE" stamp on them. Those made in the United States do not. Barrels produced in Germany must be fired with a single round loaded to 1.5 times normal pressure as determined by the German Proof House.
Approximately 50% of guns manufactured in Germany go to the United States, with the balance going mostly to Europe and Asia. The X5, X6 and P226 steel pistols are all made in Germany
Sig Sauer is a certified ISO 9001:2000 company for quality management and ISO 14001:2004 certified for exemplary environmental management.
Sig Sauer Factory Video
Handguns
P210
In the late 1930s, the Swiss Army set out to replace the Luger, which had been in service since 1900. Seeing promise in a pistol designed by a Swiss but manufactured by a French company, SIG acquired a license to use the French patent, and development work on the P210 began. Although development would take over ten years, it was finally complete in 1949.
This new pistol featured a slide that rode inside the frame rails, as opposed to outside, like most pistols were (and still are) designed. Because of this and other design features - as well as high levels of Swiss precision - the pistol is famously capable of astonishing accuracy. Standards set by the factory called for groups no larger than two inches at fifty meters.
Various models of the P210 were manufactured between 1949 and 1975, primarily in 9mm, but P210s were also manufactured in 7.65 Luger and .22 LR. These original pistols generally command high prices when they are available for sale.
In 2011, Sig Sauer reintroduced the P210. Manufacturing processes were streamlined and simplified, but the pistol is still manufactured in Germany and fitted by hand in the Sig Master Shop. Test targets ship with every pistol as a guarantee of the accuracy these new pistols are capable of.
Several changes have been made to the design of the new P210 "Legend." The safety has been improved and strengthened, an extended beavertail has been added, and beautiful wood grips are to be supplied with every pistol.
P220
Although the P210 was highly respected, it was not easy to manufacture, and was costly as a result. Almost three decades after it was developed, the Swiss Army set out to replace the P210. Like the P210, this new pistol would also be manufactured by Sig, although the company partnered with J.P. Sauer & Sohn for its development - a partnership that has endured to this day. Called the P75 by the Swiss Army, Sig Sauer called it the P220, and it became the original member of a still-growing firearm family.
Originally, the P220 was chambered in 9mm Luger, and its single-stack magazine held 9 rounds. When imported in small quantities to the United States in the late 1970s, it was also chambered in .38 Super and .45 ACP. These pistols had European-style "heel" magazine releases, and were not very well received in America; subsequent P220s sold in America and elsewhere would feature magazine releases located just behind the trigger guard. In addition, they would be offered almost exclusively in .45 ACP, for many buyers thought the pistol was quite large when the 9-round capacity of 9mm ammunition was considered.
Because America is the largest single market for firearms in the world, Sig was determined to make its mark there; the company started importing the P220 in 1985 with the relocated magazine release, and it sold quite well. Today, the P220 is manufactured not only in Germany but also in Exeter, New Hampshire, and is available in several different variations and sizes.
P226
Developed to compete in the mid-1980s Joint Service Small Arms Program, or XM9 Handgun Trials, the Sig P226 traces its roots back to the P220. Unlike the P220, however, the P226 features a double-stack magazine, originally with a capacity of 15 rounds of 9mm Luger ammunition. Its toughest competitor was the Beretta 92F, which it eventually faced off against in three separate US Government handgun trials. Both pistols surpassed requirements, but Beretta's overall bid was lower, and so the 92F design became the M9.
However, the P226 would see service with the US Navy SEALs after 92F slide failures injured several SEALs. The P226s used by these units differed slightly from standard models, with special attention paid to corrosion resistance for internal parts.
Originally, the P226 featured a stamped steel slide with welded-on forward section and internal barrel bushing. The breech block was held in place with heavy-duty roll pins that required replacement at standard intervals. This design worked well for 9mm ammunition, but with the introduction of .40 S&W in the early- to mid-1990s, a stronger and more durable design was required. These newer pistols featured slides milled from solid stainless steel, which were not only more durable, but less maintenance intensive.
Many versions of the P226 are offered to the public today, in 9mm, .40 S&W and .357 Sig chamberings, with DA/SA, DAO, and DAK (light double action) trigger systems, various finishes, and a choice of aluminum or stainless steel frames. All new P226s feature a rail for accessories such as weaponlights. Night sights are available, as are special editions such as the P226 NAVY, which features an engraved anchor on the slide like those issued to Navy SEALs. Although Sig has introduced newer handguns, the P226 remains one of its most famous - and reliable - offerings.
Rifles
Swiss Arms/Sig 55X Rifle Series
Sig's 55X rifle series was designed in response to the Swiss Army's need for a new assault rifle in the 1970s and 1980s. Officially adopted in 1990, the Sig 550 was a unique mix of East and West: it utilized a long-strong gas piston system like the AK-47, but incorporated design changes that made the weapon more ergonomic, fired the 5.56mm cartridge that had become the standard of NATO and other Western nations, and an upper and lower receiver design similar to the M16 platform. Unlike Soviet-bloc weapons, it was stamped, soldered, welded and machined to Swiss standards.
While the 550 was met with a warm reception by all those who used it, certain units needed shorter rifles for urban operations, so the shorter 551 and 552 variants were designed in the mid-to-late 1990s. The ultra-compact 552 pushed the limits of spring technology at the time, and necessitated the relocation of the action spring, or recoil spring. When the upper receiver was separated from the lower, the action spring of the 552 would fly out of the weapon if the shooter was not careful.
As spring design advanced, Swiss Arms was able to position the action spring in the standard (550/551) location for the 552-sized model 553. In addition, the 553 features a machined aluminum lower in place of a stamped steel lower receiver. Two models of the 553 offer compatibility with Sig 55X magazines as well as STANAG, or M16, magazines.
Sig 516
Patterned after the ubiquitous M4 carbine, the Sig 516 features a number of modifications that are specific to this platform. The biggest difference is the replacement of the M4's gas tube with a short stroke gas piston system. This system is adjustable with either three or four position systems available. The lower receiver has been modified to place tension against the takedown pin, thereby reducing play between the upper and lower receivers. Optional are ambidextrous controls, including an ambidextrous bolt release design that is unique to Sig. Also, quick-detach sling points are available on both sides of the lower receiver.
The 516 features a 1-in-7 twist, 16" chrome-lined "military-grade" barrel with phosphate finish on the exterior. A free floating quad rail is standard on almost all Sig 516s, as is a gas block that still allows a bayonet to be attached. Unloaded, the 516 Patrol weighs 7.3lbs. The 516 Precision Marksman weighs 7.7lbs unloaded and has an 18" barrel. Shorter barrels are available on the 516 Patrol, as are select fire versions for military and law enforcement agencies.
The upper and lower receivers of the 516 are machined from 7075-T6 forgings. The upper receiver features a standard Picatinny (MIL-STD 1913) rail. A standard semi-auto single stage trigger group with a pull weight of 7.6lbs comes with all 516 Patrols, while the 516 Precision Marksman features a two-stage trigger with a total pull weight of 5.4lbs.
All versions of the 516 are compatible with STANAG (M16) magazines only. The 516 SCM is compatible with the laws and restrictions of some states, shipping with a 10rd magazine. The SCM is compliant with California laws and regulations, but not those of Massachusetts.
Sig 716

Chambered for the 7.62 NATO, the 716 can serve as a main battle rifle, CQB weapon or as a precision marksman depending on configuration. The 716 is select fire, allowing single shot, three round burst or full auto.
Like the 516, the Sig 716 uses a gas piston system with a three position adjustment valve (four position is also optional on the 716). Fully floated quad rails are a standard feature.
Options include barrel lengths (12.5" to 20"), barrel types, trigger types and color. Full 20-round magazines allow sustained fire on target in both precision and suppression use.
Ammunition for Sig Pistols & Rifles